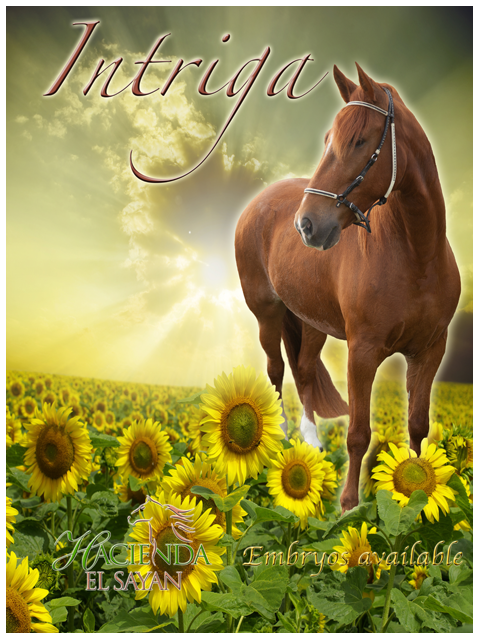 Intriga or as we call her Amber is the foundation broodmare for our breeding program. She represents the ideal in terms of a prototype mare.
Her conformation is impeccable. She has a very desirable height, wide strong neck, level front and hind quarters and nice front quarters separation.
She has a very mellow temperament while in the barn or on the ground but when the time comes to train or show she brings about a level of energy and brio only the top contending mares have.
Perhaps her most remarkable feature is her natural four beat gait with an impressive speed and perfect tracking. Amber is what we call a natural and pure fino mare. I have never seen her out of gait no matter how tired she could be and this is the main attribute we want to reproduce.
Amber is also a very prepotent mare and transmits incredible hindquarter action, beautiful conformation and natural gait as well as quick low hands and lots of brio. She also transmits her beautiful chestnut color. For details on Ambers offspring visit the Colts and Fillies section.
Amber was shown extensively during her competition years. She was always on top of the scoreboard as a fino mare.
Embrios from Amber are available as well as foals.